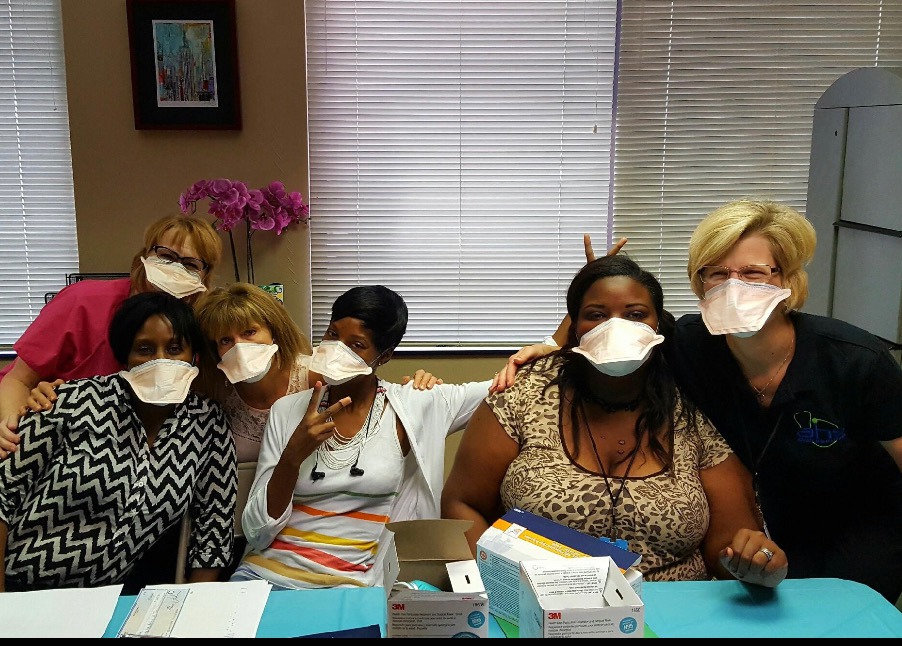 – We offer onsite COVID-19 PCR testing (nasal swab)
– We offer onsite Rapid Antigen COVID-19 testing
– We offer onsite COVID-19 IgG Antibodies (blood draw)
– We offer onsite temperature check stations for your


employees/staff
– We offer onsite drug screenings
– We offer onsite Respiratory Fit Testing (for hospitals)
In our 39 years of business, we have never had a salesperson. Why? All our business has been from client referrals and we continue to grow every year. Our goal has always been to be a wellness resource for our client's and to only provide services that we are knowledgeable and proficient at onsite.
If we can help you with any of our nationwide onsite services….or you just want information on the different types of COVID tests, please contact us by clicking the button below
Frequently Asked Questions
Re: COVID-19 Screening Services
Q: Is the cost of the test covered under insurance?
A: No, the cost of the tests is billed directly to the client.
Q: What is the difference between a PCR and an IgG COVID-19 test?
A: The PCR test uses a sample of mucus taken from the participant's nose using a long swab. It looks for the genetic material of the coronavirus. The test uses a technology called PCR (polymerase chain reaction), which greatly amplifies the viral genetic material if it is present. That viral material is detectable when a person is actively infected and currently showing symptoms. The test will not identify someone who has recently been infected. And the nasal swabs can sometimes fail to pick up signs of an active infection thus causing a false negative.
The IgG test is a blood test. It looks for antibodies to the coronavirus. These antibodies generally arise 4-10 days after exposure or infection, so they are not used to diagnose people with current or active symptoms. Antibody/IgG tests identify people who have previously been infected with the coronavirus. They do not show whether a person is currently infected. This is primarily a good way to track the spread of the coronavirus through a population. There are some people that do not generate detectable IgG antibodies after infection, because of an underlying immune disorder, immunosuppression, or other reasons.
Testing for IgG, including people who have no current symptoms or are 10 days after COVID exposure or post-symptom onset, can play a critical role in the fight against COVID-19. IgG testing can be used to:
Identification of COVID exposed persons with PCR-negative results, especially for patients who present late with a very low viral load below the detection limit of RT-PCR assays, or when lower respiratory tract sampling is not possible.
Identify whether people have been exposed to COVID and have mounted an immune response.
Assess how many people have been exposed to COVID in a population, by identifying individuals who have developed antibodies to the virus.
Possibly help identify people who may be able to donate convalescent plasma as a possible treatment for those who are seriously ill from COVID.
This test, along with other clinical data, may help identify individuals who may be less susceptible to infection and can return to work.
Q: What is the rapid antigen test?
We offer the CareStart antigen rapid test. This is a point of care (POC) designated test with minimally invasive specimen collection (nasopharyngeal). Results are detected within 10 minutes and it detects the SARS-CoV-2 nucleocapsid protein antigen. It currently detects if a participant is in the shedding phase of the virus. It identifies acute infection with high sensitivity.
**The CareStart COVID-19 antigen test has not been FDA cleared or approved. This test has been authorized by FDA under an EUA for use by authorized laboratories and at the Point of Care by medical professionals.
Q: What is the turn-around time for the results?
A: PCR results take 1-2 business days, IgG results take 2 business days, and Rapid antigen results take 15min to populate.
Q: How many tests can you provide in a day?
A: It depends on the test. With enough notice to obtain test kits and secure our staff, we have been able to do up to 500 tests per day/per clinic location.
Q: What lab equipment is being used?
A: Bako Diagnostics is responsible for the processing of the specimens offsite at one of their labs. A Bako courier picks up the specimens from us after each clinic.
Q: What is your coverage area?
A: We have over 3,500 healthcare professionals and we can provide onsite testing nationwide.
Q: How are the PCR COVID test results handled?
A: Bako Diagnostics will be processing the test specimens (PCR) and Atlanta Health Systems will provide the results to each participant via email 24-36hrs after the testing date. If a Positive result occurs from a PCR (nasal swab) test, AHS will be alerted by Bako Diagnostics and we will then follow up with the participant to ensure they are aware of their result and the requirement to quarantine themselves for 10 days. We will also report any Positive PCR results to the head of HR or COVID Compliance Officer onsite, as long as the participant has signed their HIPAA compliance authorization releasing their results to their employer.
Q: If I have a participant that is experiencing symptoms and needs to be tested, can you come to test him/her?
A: We can test the participant in their car if they want to attend the testing clinic your company is hosting. We can provide the PCR test at the Client/Employer's place of business, but we have a minimum of 25 participants to come onsite. So you would be charged for 25 participants even if we only test 1 participant.
Q: Do you provide at-home COVID testing?
A: We do offer at-home COVID-19 PCR testing upon request. For pricing, please fill out the following request form: Request a Quote
Q: How much notice do you need to set up a clinic for my office?
A: We request at least 4 weeks notice. However, due to the nature of this "surreal" situation we are all experiencing, we may be able to set up your clinic(s) with less notice. We will be able to let you know within 48 hours if we can or cannot provide the clinic(s) for you and it is based on our calendar availability, staff availability, supplies, and how quickly we can obtain the # of test kits needed from Quest.
Q: What type of questions do you ask the Employees/Office Staff when you provide the Temperature Screenings?
A. The goal is to have as minimal human touch as possible. So we would have the questions (below) printed and visible on the table. As an Employee/Office Staff enters, we would point to the list of questions and ask "Are you experiencing any of these symptoms currently?" Based on their answers to the questions, they would either:
proceed to have their temperature taken and then receive their entry sticker for the day (assuming their temp was 99.9 or below)
they would discreetly be handed a card that says "Based on your answer(s) to the COVID-19 Symptom Screening questions or your temperature of 100.0 or above (our staff would circle which one was the reason), we are unable to approve you for entry to the workplace today. Once you are in your car, please call (designated office manager or HR contact) at # and he/she will explain the next steps."
QUESTIONS:
Do you have a cough?
Do you have a fever now or have you in the past 10-14 days?
Have you come into contact with any confirmed COVID-19 positive individuals in the last 10-14 days?
Are you experiencing shortness of breath or difficulty breathing?
Are you experiencing any flu-like symptoms such as headache, fatigue or gastrointestinal upset?
Have you experienced recent loss of taste or smell?