Ginette Dominique, certified nursing assistant at Northside Gwinnett Extended Care Center, received the Pfizer coronavirus vaccine at 3:50 p.m. on Dec. 16—making her the first vaccination at Northside Hospital.
The Northside Hospital System received its initial distribution of the Pfizer COVID-19 vaccine on Wednesday, Dec. 16. The first doses were administered that afternoon at Northside Hospital Gwinnett and Northside Hospital Atlanta, followed by Northside Hospital Cherokee and Northside Hospital Forsyth on Thursday.
Northside has successfully operationalized vaccine clinics at all of its hospital campuses, and is following direction from the Centers for Disease Control and Prevention (CDC) and Department of Public Health (DPH) that the limited vaccine supply be administered initially to frontline health care workers and nursing home patients. Hospital employees and providers with the highest risk of exposure (Emergency Department, ICU, Respiratory, Internal Medicine, COVID-19 cohort units, etc.) are receiving the initial vaccines.
Pulmonologist Dr. Abubakr Chaudhry was the first physician to receive the vaccine at Northside Hospital Atlanta on Dec. 16.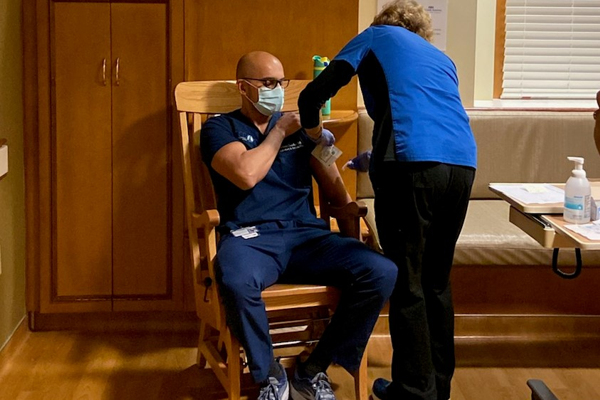 "As a pulmonary critical care physician and a member of Northside Hospital's COVID response team, I thought it prudent to lead by example. I wanted my fellow health care workers to know that I would never recommend anything I wouldn't take myself."

– Dr. Abubakr Chaudhry, Pulmonary and Critical Care of Atlanta
Married physicians, pulmonologist Dr. Spencer Lee and internist Dr. Seema Lee, received the first two vaccines at Northside Hospital Cherokee on Dec. 17.
"It has been a long and taxing year for our family with the two of us being frontline health care workers," said Dr. Spencer Lee, Cherokee Lung & Sleep Specialists. "We have seen so much pain and devastation for families throughout the pandemic and this vaccine really represented to us a light at the end of the tunnel after all this time. It has given us hope as we try to not only protect our family, but continue to care for all our patients in the best means possible."

Northside is committed to providing the vaccine in accordance with CDC/DPH guidelines and will continue to vaccinate additional employees and providers as supply becomes available.
Northside received its first doses of the Moderna vaccine Dec. 23.
There is currently a limited supply of COVID-19 vaccine in the United States, but supply will increase in the weeks and months to come. Until the vaccine is widely available, Northside strongly encourages everyone to continue to follow the CDC's guidelines to limit exposure to and slow the spread of the virus:
Wear a mask anytime you are around other people.
Wash your hands or use hand sanitizer often.
Stay out of crowds and at least six feet apart from others.
Anyone with questions about the COVID-19 vaccine should visit the CDC's website at: cdc.gov/coronavirus/2019-ncov/vaccines/faq.html.
Learn more about Northside Hospital's response to the COVID-19 pandemic.